I just started doing some of my christmas shopping and I thought this post might come in handy for all those people out there who have to get a gift for the dry cereal lover in their life, a real granola like me hahaha.  I am mostly kidding, I'm not into categorizing people nor do I feel that I have membership to a particular group. I am just someone who cares about health, not only just for my family but for the entire the world around us.  I truly believe we are all in this together, whether it's the bees, the trees, the air, the granolas or even the Rob Fords.  Now let's get to the goods!!
We recently upgraded to a locally made natural mattress (which I can elaborate on in a future post) so I am really excited to further feather my nest.  I want my bedroom and bed in particular to be this amazing warm cozy comfortable place. The place where I can truly relax and recharge at the end of every day.  The adults in our household don't get much sleep so we are going for quality over quantity!
So I sit around and fantasize about one day receiving any of the following:
Big Ticket Items:
1. ANYTHING PENDLETON – but in particular I would love a blanket to match the lone pillow sham I picked up at Riva's eco store in their 50% off flood sale.
or I found these amazing pillow cases made from Pendleton wool on etsy that could go on my bed or couch.. or maybe even the window bench in the kitchen…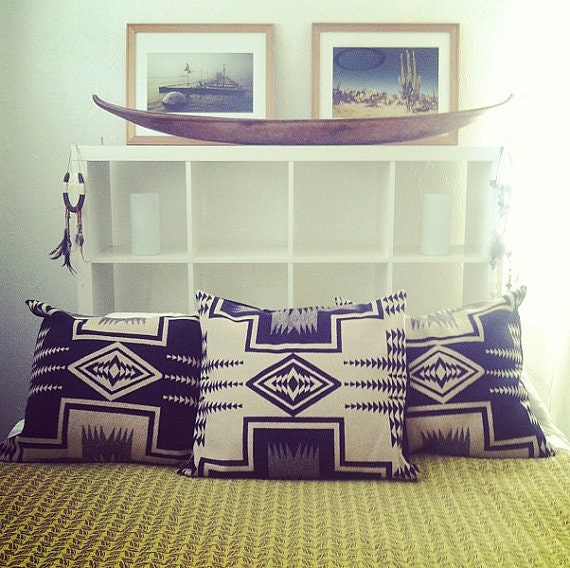 Here is the window bench in our kitchen, I bought a wool cushion and my mother in law graciously sewed me a charcoal wool cover for it but these G & T linen pillow cases have seen better days. Would love to update them!
2. Organic cotton sheets! I am not particular to any brand since I have yet to try them but would love to complete my gorgeous bed with some organic bed linens.
3. David Suzuki Cowichan Sweater by Granted I have been pining over this sweater for a couple of years now.  It is very pricey but it is handmade and  Granted will donate 20% of the proceeds from this sweater to the David Suzuki Foundation.

After taking a look at my list you may realize I have a bit of a wool obsession.  I love wool because it is naturally flame retardant (no need for chemical flame retardants), it is hypo allergenic and does not encourage dust mites, wool is also resistant to mold and mildew. Of course I prefer organic, pure, completely sustainable practices but that isn't always available.
Stocking Stuffers:
Homemade anything (art, cookies, granola)
Natural bath products, lipbalms, lotions
VOC free nail polish
Wrapping:
Don't forget to use green wrapping!  I love using all kinds of different things to wrap gifts: reusable bags, recycled paper, toddler art, old maps.  Get creative and have fun with it!  Friends who know me best like to tease me because I can't bear to throw wrapping paper away and I always try to save it all.  I will use what I can to re-wrap gifts but if it is a really small piece I still save it for crafts etc.
Here is a snap of my tower of salvaged wrapping products that lives in the basement:)